Why You Never
Wash a Rental Car!
You create the future faster
when your people OWN IT!
When you get your people to feel it's "theirs", it gives your leadership team and business the freedom to operate to its true potential and enables you to focus more time on what you are most passionate about…both inside and outside the business.
By working with Mark, you don't just equip your business with the leadership skills it needs to succeed today, you're also ensuring your people OWN creating the future faster with you.
Learn to let go, see your team achieve faster, and enjoy more dinners at home.
Making It Feel "THEIRS" – Lead NIFO
(Nose In, Fingers Out)
Mark's mentoring style is driven by stories and practical examples, helping you realize success isn't all on you and providing you with the tools you need to help you grow your people and your business's results.  He does this by working with you to develop the leadership mindsets and behaviors (particularly NIFO leadership) which enable your people to OWN the results of their work – both individually and as a business.
Mark provides you with a leadership framework for success, and provides you and your leadership team with practical ideas that can be implemented immediately within your day-to-day leadership.
Is it time to work with Mark?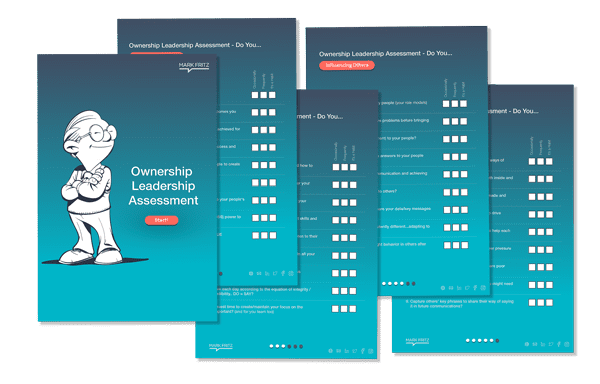 Habits that drive ownership for results!
Download the free assessment today!
…then…
Call Mark and go through it together.
Masterclass
"Mark's methods for leading people were very thought provoking and generated many new "out of the box" ideas."
Diego Lladó
Executive Director, ALTAG
Keynote
"Mark was engaging, personable, and spent extra time listening and interacting with the delegates following his talk."
Simon Phillips
Director of Operations, Hoburne
Leadership Programs
"Mark's personal involvement and attention to both the delivery of the leadership program and the results is constant and turns him in a real partner for the HR team, the participants, and the CEO. "
Florence Kaminska
Docomo Digital
Professor
"Mark is one of those exceptional and rare teachers that leaves an indelible footprint on corporate executives minds. He has a unique way of addressing complex subjects, making them seem common issues."
Paula Maio Marques
former Head of Custom Solutions, Porto Business School
Masterclass
"Mark is absolutely inspirational, but also to a high extent practical; and leaves the audience with clear actions."
Ellen Marie Nyhus
Visma Software International AS
Keynote
"Mark is a rare talent - able to entertain, engage, inspire and teach at the same time.  Genuinely life changing."
John Watkinson
Former CEO of Hamleys