Learn how to lead businesses where success doesn't rest solely on your shoulders
Success on your terms
Successful leaders aren't an island. The very best leaders understand that it's not all about them and that true success comes from creating a culture and workplace which empowers a team to work and deliver results without constant oversight.
What's the secret to becoming a great leader? Realising micromanagement is the enemy of success. When you micromanage a team you're artificially limiting what they can achieve – you become the team's biggest blocker.
That's not all – this micromanagement also comes with a heavy personal cost – it requires you to sacrifice your personal life at the altar of professional success.
Stepping away from micromanagement gives your team the freedom to operate to its true potential and gives you the space to enjoy your personal life.
Your role as a leader is simple – to create an environment which gives your team the empowerment they crave and the trust they deserve. By working with Mark, you don't just equip your business with the leadership skills it needs to succeed today, you're also ensuring it possesses the resilience and flexibility it needs to withstand and overcome future challenges.
Learning to lead
Mark's teaching style is driven by stories and practical examples, helping you realise success isn't all on you and providing you with the tools you need to help your business grow faster. He does this by working with you to develop strategies and methods which will enable your people to own the results of their work – both individually and as a team.
Mark provides you with a framework and toolkit for success, delivered through a series of keynotes, master classes, and leadership programs. These equip you and your leaders with practical ideas that can be implemented immediately within your day-to-day leadership.
Mark Fritz is a leadership specialist with a track record in changing lives and businesses. He is an internationally recognised coach and leader who has taught on MBA and executive education courses at business schools across Europe, mentors executives from across the world, and runs leadership programs for executive teams and their leaders of the future.
With the international experience of leading enterprise change and virtual organizations, Mark shares the mindsets and habits that create the conditions for your people to deliver results on their own.
If you want to learn how to deliver success on your own terms, it's time to talk to Mark.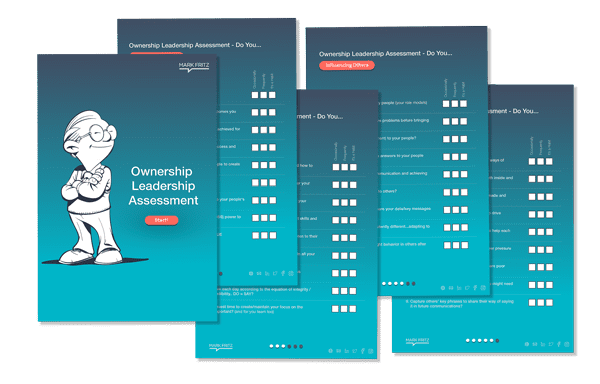 Habits that drive ownership for results!
Enable your team to thrive on their own!
Download the free assessment today!
…then…
Schedule a call with Mark.
Masterclass
"Mark is absolutely inspirational, but also to a high extent practical; and leaves the audience with clear actions."
Visma Software International AS
Keynote
"Mark is a rare talent - able to entertain, engage, inspire and teach at the same time.  Genuinely life changing."
Former CEO of Hamleys