Lead your Business
to Thrive without You.
Gain time for you and family
using the power of ownership.
What would it mean to you if…
…your business could thrive without you.
It would mean MORE…
You/family time (not into everything)
Focus on the future (yours/your business)
Freedom for you/team (feeling of control)
Success for you/business (feeling of pride)
…as your people OWN the achievement.
Stepping away from micromanagement (which has a speed limit) gives your leadership team and business the freedom to operate to its true potential and gives you the space to enjoy more time with your family.
Your role as a leader is simple – to create an environment which gives your leadership team the empowerment they crave and the trust they deserve. By working with Mark, you don't just equip your business with the leadership skills it needs to succeed today, you're also ensuring it possesses the resilience and flexibility it needs to withstand and overcome future challenges too.
Leading NIFO
(Nose In, Fingers Out)
Mark's coaching/mentoring style is driven by stories and practical examples, helping you realize success isn't all on you and providing you with the tools you need to help you grow your business's results.  He does this by working with you to develop strategies and methods (particularly NIFO leadership) which will enable your people to own the results of their work – both individually and as a business.
Mark provides you with a framework and practical advice for success, and can be delivered through keynotes, master classes, and leadership programs. These equip you and your leadership team with practical ideas that can be implemented immediately within your day-to-day leadership. With the international experience of leading enterprise change and virtual organizations, Mark shares the mindsets and habits that create the conditions for your people to deliver the business results on their own.
If you want to lead your business to thrive without you, then it's time to talk to Mark.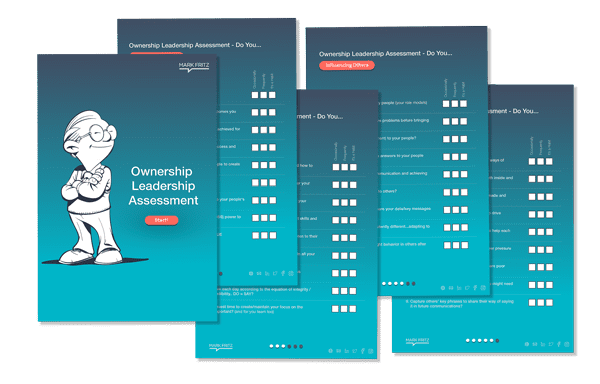 Habits that drive ownership for results!
Enable your team to thrive on their own!
Download the free assessment today!
…then…
Schedule a call with Mark.
Masterclass
"Mark is absolutely inspirational, but also to a high extent practical; and leaves the audience with clear actions."
Visma Software International AS
Keynote
"Mark is a rare talent - able to entertain, engage, inspire and teach at the same time.  Genuinely life changing."
Former CEO of Hamleys