Lead your people
to feel it's THEIRS.
You create the future faster
if others OWN IT! with you.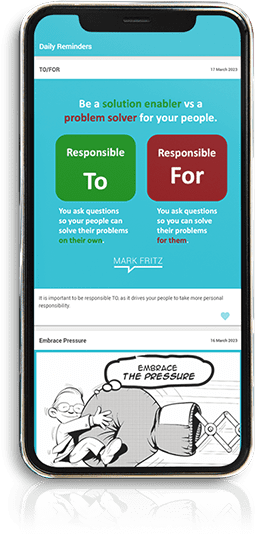 Create ownership leadership habits faster!
The daily reminders webapp triggers more ACTION in you.
Whether your team stretches across the country or the world, your people today need to deliver more on their own. If every decision comes through you, you're taking on a world of work and the team moves at your speed!
I'm Mark Fritz and I'll enable you and your leadership team to lead your people to feel it's THEIRS and OWN the future with you…and together you will create the future faster.
Making It Feel THEIRS – Lead NIFO
(Nose In, Fingers Out)
My mentoring style is driven by stories and practical examples, helping you realize success isn't all on you, and providing you with the ways to enable your people to OWN the future with you.   The mindsets and behaviors of NIFO leadership enable your people to feel it's THEIRS...with you trusting them to decide and deliver more on their own.
Is it time to work with me?..and create your future faster!

Masterclass
"I can't get enough of this guy! He rocks like a metal band! Elegant humor, quotes on the fly, stories that grasp and inspire. Makes the concepts as simple my five year old also got something out of this course! "
Executive Education Student
IE Business School
Leadership Programs
"Mark will be remembered in your organisation for a long time. He will help create a common language for leadership that will leverage the power of your leaders and make your talent grow, both professionally and personally."
Belén Fernández
Former Chief People, Organisation and Culture Officer - WiZink
Lecture
"Clarity and simplicity are much underrated nowadays, but Mark makes them shine and move people."
Juan Manuel Domínguez
Academic Director | Strategic Project Leadership - IE
Masterclass
"Mark is absolutely inspirational, but also to a high extent practical; and leaves the audience with clear actions."
Ellen Marie Nyhus
CEO | Verdane Elevate
Keynote
"Mark is a rare talent - able to entertain, engage, inspire and teach at the same time.  Genuinely life changing."
John Watkinson
Former CEO of Hamleys