My Impact
Your team OWN the future with you.
Imagine…
More leadership success…
More time for you…

…when your people
OWN IT! with you.

Ownership
Coaching/Mentoring
IN PERSON | VIRTUAL | HYBRID
"Working with Mark is a great learning journey. With my growing business, I find bigger challenges every day. With Mark's guidance and tools, I am calmer and make better decisions every day."

Alexander Schmidt, CEO, BABLE Smart Cities, Germany/Europe
Ownership Leadership to
Create the Future Faster
(Be the role model)
Lead everyone to OWN it with you.
Leaders often say "I feel all alone" in my role.
That's why coaching/mentoring can be very
powerful for you, as you gain a sounding board
and advisor along with you on your journey
to even greater leadership success.
Ownership
Interactive Sessions
IN PERSON | VIRTUAL | HYBRID
Bring Ownership
Top of Mind

"Mark is a rare talent – able to entertain, engage, inspire and teach at the same time.  Genuinely life changing."

John Watkinson, Former CEO of Hamleys
Ownership Leadership to
Create the Future Faster
(Create Accountability)
We OWN today and the future.
Raise your Level
of Influence
(Build Relationships)
We influence others to OWN it too!
3 P's for Driving
Successful Change
(Focus on People/Plans/Politics)
We OWN change together.
These interactive sessions feel more like
"conversations", as there are no slides.
It's just Mark sharing stories & examples
and engaging everyone in the concepts
(with group work and report backs that
help everyone see how they can apply
the learning right away).
Ownership
Leadership Programs
IN PERSON | VIRTUAL | HYBRID
Ignite an Ownership
Culture in 90 Days.

"Mark will be remembered in your organisation for a long time. He will help create a common language for leadership that will leverage the power of your leaders and make your talent grow, both professionally and personally.

Belén Fernández, Former Chief People, Organisation and Culture Officer, WiZink
Growing your Leaders
& Hi-Potentials Faster
(Grow a strong leadership pipeline)
We OWN the future.
Interactive
Sessions
Ownership behaviors
become top of mind.
Accountability
Partners
Reinforce great
behaviors in each other.
Coaching/
Mentoring
Develop great
role models faster.
Daily
Reminders
Create new
habits faster.
Mark's leadership programs are "impactful"
as the interactive sessions make the learning
relevant fast; and the group work, reflection,
and peer coaching help everyone to move
the learning into action fast as well.
The program's success is not in the learning,
but in the action from everyone that follows.
Ownership
Leader
Self Study
"Intuitive, easy to navigate, with content in Mark's trademark style:  direct and profound.  Love the short lessons."

Victor Vale, Former Group Director of Human Resources, Tap Air Portugal
Become an Ownership Leader
(Based on Mark's OWNIT! Methodology)
Get your people to OWN the future with you.
Lessons
Learn ownership
concepts quickly.
Scenarios
Work your business
judgment muscle.
Resources
Leverage experiences
to grow faster.
Advice
Get Mark's support
when you need it.
This is a great resource for companies
to "speed the leadership development"
of your leadership team/high-potentials.
It helps create a common language within
the company on the leadership mindsets
and behaviors that drive OWNERSHIP,
enabling everyone to create the future faster.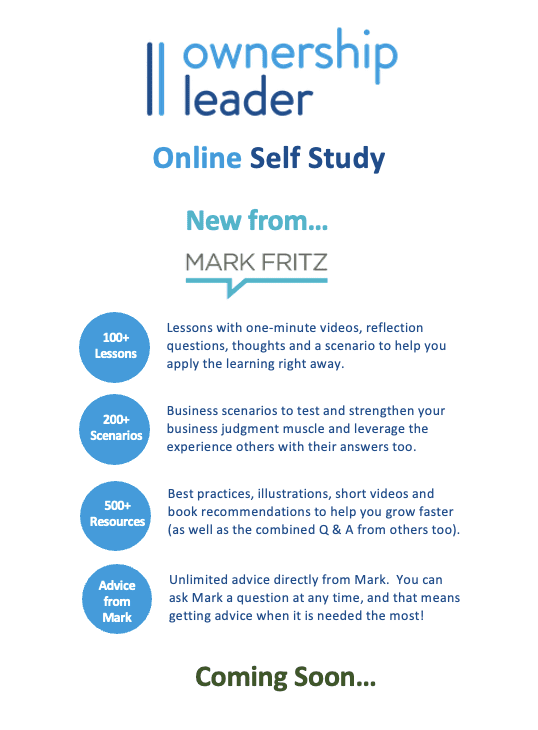 OWNIT! Methodology
I've developed an OWNIT! methodology to highlight the leadership mindsets and habits that empower your people to take the OWNERSHIP. It reinforces why driving ownership is so POWERFUL in leading and delivering change in today's VUCA world.